Cool
By Susan A. Kitchens on 2/2/2020
A friend from college had a saying I adopted: "Wow. Say it backwards. Wow." Sunday February 2 is a day that is a day it backwards. And forwards. All the same. 02/02/2020 — the same forwards as it is backwards. The last Palindrome Date was 11/11/1111, or 900 years ago.
By Susan A. Kitchens on 6/6/2012
This Venus Transit story begins with Christmas, I suppose. I was presented with a huuuuuge box — actually a few huge boxes. I had NO idea what was inside them; they intimidated the hell out of me. It was a telescope. Wow! A total surprise. There've been some great nights viewing this year. And, for […]
Posted in Cool, Science, Space, Tourist in my hometown | 7 Responses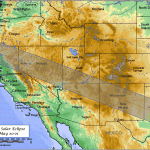 By Susan A. Kitchens on 5/16/2012
This Sunday, May 20, there's an annular eclipse — a ring-around-the-moon not-quite-a-total eclipse. I'm traveling to an area where it's as total as possible this weekend (the SW corner of Utah), but here's instructions for how when to view it where you are. The Exploratorium has a how to view it post. The Goddard Space […]
Posted in Cool, GeekTech, Science, Space, Travelogue
By Susan A. Kitchens on 8/2/2009
Windowfarms.org launches its how-to site, Our.Windowfarms.org. So! very! cool! A while back, during my sick July days (respiratory crud [nearly] all month long, oh joy), I found a site called Windowfarms. So cool. R&DIY — Research and Develop It Yourself, a project spearheaded by Britta Riley and Rebecca Bray. A New York City grow your […]
By Susan A. Kitchens on 5/20/2009
I've been following but not blogging (till now) the Space Shuttle and Hubble telescope progress (I've been tweeting it, tho). I just watched this video taken from the Shuttle crew window of the release of the Hubble telescope, which is back in "flagship condition" and is expected to remain in operations until 2020. (we'll call […]
Posted in Cool, Science, Space | 2 Responses
By Susan A. Kitchens on 4/23/2009
15 Cool High School College and University Building Designs. How'd you like to do your learning in an environment like one of these? This is the perfect follow on to the previous post about how buildings and environment affect mood, creativity, and work.
Posted in Cool, Design, Education, Environment